The heart of the Fresh Produce is rooted in the positive impact of color. We love color and want our customers to light up the room in our clothes. From casual tops and feminine dresses to decorative scarves and stylish pants, Fresh Produce is dedicated to creating feel-good clothes women want to wear every day.  The coastal-inspired colors and broad assortment of easy-to-wear pieces are flattering and comfortable on all shapes and sizes and are available in Extra Fresh plus sizes as well as children's styles. The comfortable fabrics, fit and style reflect carefree ease.
Fresh Produce is co-founded and still run by a mom entrepreneur, Mary Ellen Veron, and is primarily made in the USA.  You'll find the clothing sold in Fresh Produce stores and more than 500 specialty retailers throughout the US and Caribbean.
**********
I chose and have been wearing around The Active Long-sleeve Jacket in the color Oyster for the past couple of weeks and I love it!  I ordered it in Medium and it fits similarly to other jackets that I already own.  For some people the sleeves may be a bit long, but I think I have short arms and I actually like it when the cuff doesn't sit right at my wrist.  There's some decorative stitching across the front, chest area which I find flatters the jacket, and therefore me.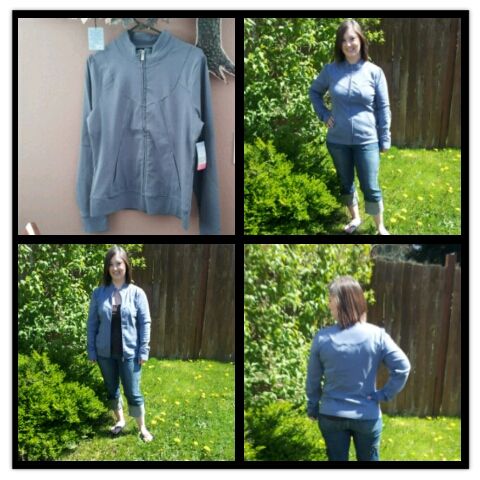 The material is a soft cotton with a tiny bit of stretch to it, which is exactly what I love.  Comfortable, cute and something that I can just run around in every day.  The color is gray with a hint of blue and it goes well with the colors I wear on a regular basis.
One of the first days I wore this, I was carrying coffee in a travel cup and my purse slipped off my shoulder which made my coffee slosh.  It sloshed all over my arm/sleeve.  I went inside and was able to wipe it pretty clean with a damp cloth and you'd never know that I spilled.  It didn't leave any weird marks from rubbing.  It came out of the wash great, too.
If you get a chance to try any Fresh Produce products, do it!  They seem like a great company with well made clothes!
Go here if you're looking for casual clothes.
If you're looking for something a little unique go here.
If you've got a vacation coming up, check out the casual vacation clothing here.
They're currently having a Mother's Day special: Buy One Get One 50% Off All Dresses! Enter coupon code LOVEMOM.  Check them out!
Fresh Produce now ships to over 200 countries, so women outside the US can enjoy the colorful styles, too.
I was given the jacket as compensation for my review. All thoughts and opinions are my own.