While my little space in the blogosphere is generally "family friendly", today it's going to have some 'adult content'. So if you're not interested in something like that, you may not want to read on. If you are interested, fantabulous. Go forth and read!
A while ago, I was contacted by a rep from Eden Fantasys about doing a product review. He had seen a comment I made on another blog and I guess it interested him enough to contact me.
Sometimes we need to add a little spice to our love life so this was the perfect opportunity.
I received the box a few days after the rep said it had been sent, so it was quick shipping. The box was just a brown box, so completely discreet.
The website is great too because the colors are green and pink. It doesn't make you feel scuzzy looking at it because it's not all dark and the products are tastefully displayed.
We chose this: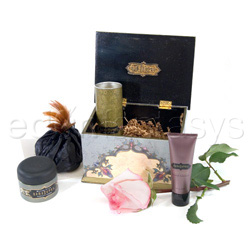 This is what the website says about it:
"Containing a sampling of KamaSutra's finest products in a beautifully handcrafted antique replica box, the Lover's toolkit provides everything you need to experience sex the way it was meant to be so "you may never have to leave bed again."
While I wouldn't go so far as to say…"you may never have to leave bed again", we did have fun with it.
Included in this kit is:
Kama Sutra's Original Oil of Love
Sweet Honeysuckle Honey Dust Body Powder with feather applicator
French Vanilla Creme Body Souffle
and sensual Love Liquid Lubricant
My thoughts on each part of this individually:
Kama Sutra's Original Oil of Love:
It smelled good and went on smooth, but it was slightly more sticky than other oils we've used in the past. It comes in a small little bottle with a tiny cork. It was cute, but it did leak in the box so not sure if that's something that normally happens or if ours was a rare occurrence. Either way, most of it was still there and we enjoyed it.
Sweet Honeysuckle Honey Dust Body Powder with feather applicator:
We did not like this. The scent was way too strong and didn't seem to mesh well with the other sweet scents in the kit. This did not smell sweet. It smelled more like a really strong flower. And I don't do well with strong flowery scents, in general, so this was a no-go for us. Plus, the feather just seemed a bit cheesy. It was really small and just seemed silly.
French Vanilla Creme Body Souffle:
This smelled so good! If it was edible, I would've eaten it. It was smooth and creamy and full of yummy goodness.
Sensual Love Liquid Lubricant:
I smelled this to see if it had a scent and I don't think it did, but it was kind of hard to tell with all the other scents around us. It was a nice, smooth lubricant and not sticky at all, which is a huge plus.
Overall, it was fun to try something a little different than the norm and I think we'd give it 3 out of 5 stars.
If you liked this review, maybe, possibly, there will be another some time that includes a giveaway. We'll just have to see what Mr. Rep. thinks.
Come back tomorrow for your regularly scheduled program.